It's All Possible Together
Join Us On Our Mission
At Pliant, we're charting new territory. Every day brings the possibility of a new discovery, a new target, new hope for patients. Be part of a team that is fearless in its quest to discover, develop, and commercialize breakthrough treatments for fibrotic diseases. Together, we can finish fibrosis.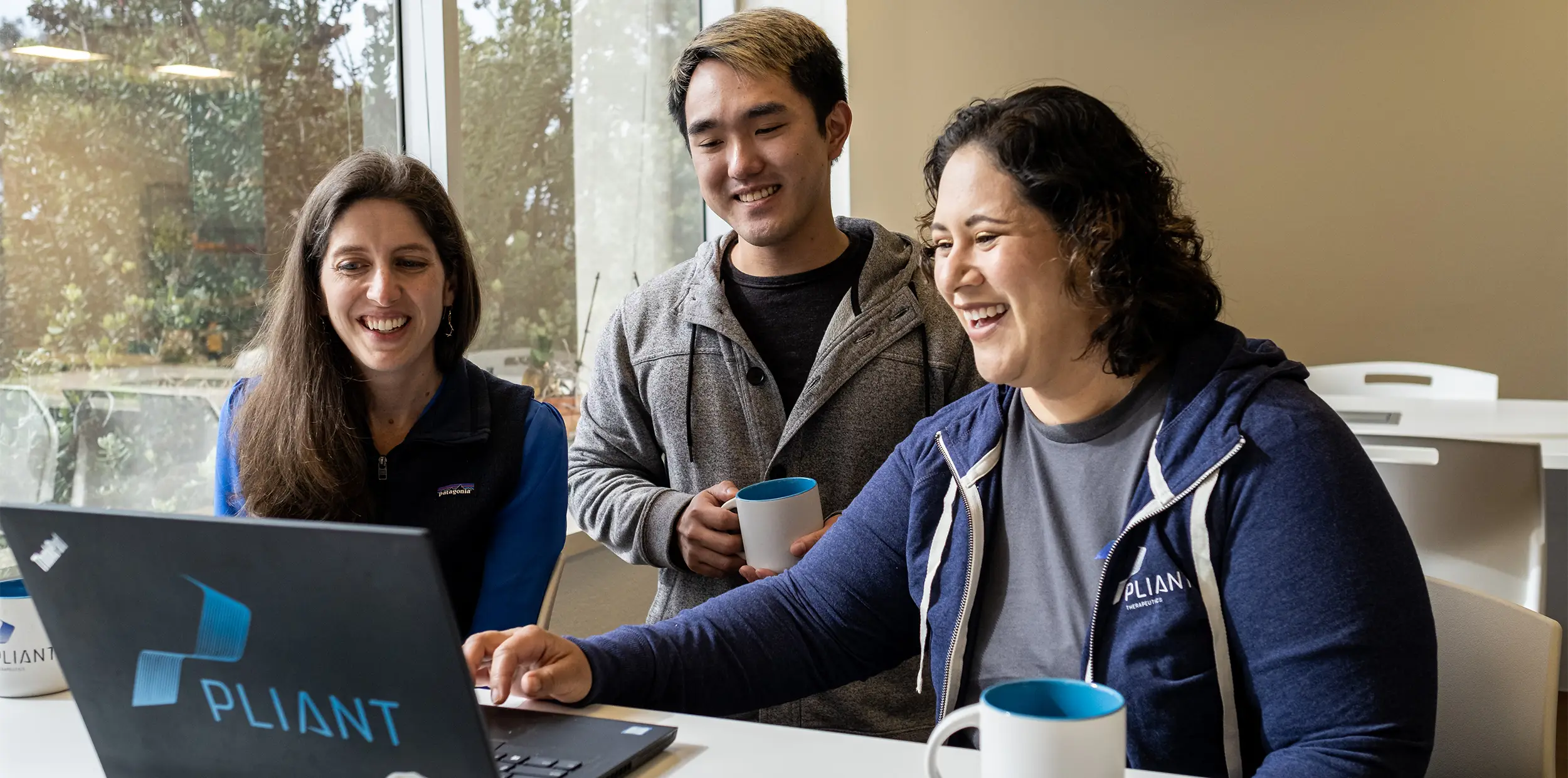 Our Culture
What matters to us as much as giving hope to patients is our teamwork. Members of our team trust each other. We trust the science. We trust in sharing our knowledge internally and externally, creating a map for other explorers to follow toward new, effective targeted therapies.
The Benefits of Working at Pliant
Health Benefits
We offer a variety of competitive health benefits so that employees can choose the plans that best fit their needs.
Medical
Dental
Vision
Employee Assistance Program
Basic Life & Accidental Death and Dismemberment
Short- and Long-Term Disability Insurance
Travel Assistance Program
Financial Benefits
Our financial benefits provide employees the opportunity to invest and plan for their future.
401(k) Plan
Flexible Spending Accounts
Commuter Spending Account
ESPP
Other Benefits
These benefits support our employees outside of the work they complete at Pliant. We understand that home life is just as important as work life.
Paid Company Holidays
Paid Sick Time
Winter Shutdown
Employee Referral Program
Wellness stipend for employees hired within the first 6 months of the year
Employee Recognition Programs
Company Sponsored Events
Happy Hours
Diversity, Equity & Inclusion
Pliant is committed to creating, nurturing and sustaining an inclusive culture, where our differences drive innovative solutions to meet the needs of our patients and employees.
Belief
Equity
Lead
Opportunity
Nurture
Grow
Summer Internship Program
Every year Pliant is pleased to host a group of passionate students as part of our Summer Internship Program, marking our continued commitment to develop the next generation of biotech professionals.
Current Openings
Pliant is looking for exceptional candidates who are dedicated to our corporate values. Our success depends on the excellence of our people. With this in mind, we are highly vested in the recruitment, training, and development of our employees.
We invite you to browse our career opportunities. If you would like to be considered for a position at Pliant Therapeutics, please submit your resume and cover letter via one of the job links.
Please note that Pliant requires all new hires to be fully vaccinated prior to the first date of employment (subject to any legally required exemptions).
See All Job Postings